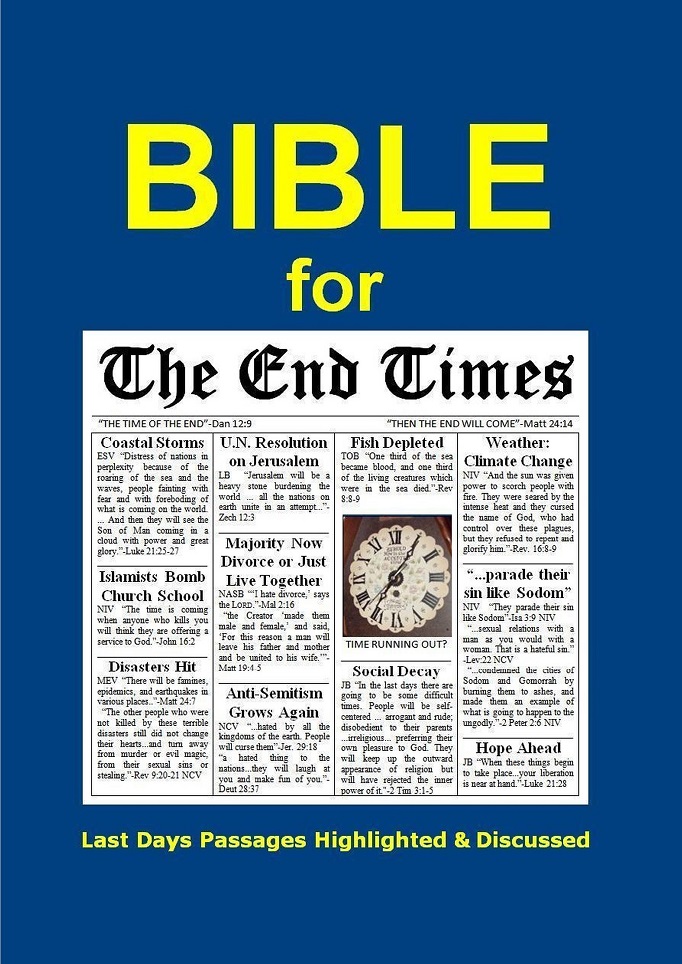 Download FREE PDF or read online

Buy printed Bible from Amazon
Download FREE PDF or read online

Buy printed Bible from Amazon
---
Bible for the End Times
Last Days passages highlighted & discussed
---
This is a complete modern-English Bible with passages related to the End Times set in larger bold type to stand out from the rest of the text and grab the reader's attention, even when casually flipping pages.

Smaller-print footnotes feature the insights of Martin Luther, John Calvin, Jonathan Edwards, Sir Isaac Newton, Charles Haddon Spurgeon and other noted Bible scholars. These classic authorities offer surprisingly helpful comments on the role of Islam, the Vatican, and a secularized society during the final days of this world.
---
THE BIBLE is a book for the ages. But this particular edition of the Bible is for our age-the final days of this wicked world when rebellion against God has reached a climax. Bible prophecy warns us that God will soon step in, through the return of Christ and the battle of Armageddon, to destroy all human governments and replace them with the Kingdom of God.
In the days of Noah, the Creator destroyed a wicked and rebellious world by sending a global deluge. In the days of Abraham and Lot, God rained fire from the sky to wipe out the sinful cities of Sodom and Gomorrah. Today's world dismisses both of those events as fanciful fairy tales, not historical fact. And that skepticism, in itself, adds to the evidence that the time is ripe for God to intervene again, since "in the last days scoffers will come, scoffing and following their own evil desires. They will say, 'Where is this "coming" he promised? Ever since our ancestors died, everything goes on as it has since the beginning . . .'"-2 Peter 3:3-4 NIV
The Bible tells of a time in ancient history when Jerusalem and the Judean kingdom under its rule had similarly forgotten the God of the Bible, and when his Holy Scriptures had been left to gather dust, without being read. But when a copy was discovered and was read to king Josiah, he led the nation in repenting and promising to follow all the instructions from God. Although that nation was in line for destructive punishment, which did fall violently upon them, those who repented and followed the Scriptures received life-giving mercy.
But, from beginning to end, the Bible speaks about the time we are living in now, and the time soon to come when God will once again step into human affairs as dramatically as in the Flood of Noah's day and the fiery destruction of Sodom and Gomorrah. It tells us both what to expect, and what we need to do, so that we and our loved ones will survive unscathed. Those passages are bolded and footnoted in this Bible.
---
This volume features the text of THE ORIGINAL BIBLE for Modern Readers.
---
Editor DAVID A REED is pastor of Immanuel Baptist Church, New Bedford, Massachusetts (ImmanuelBaptistNB.org). He served for a decade as a contributing editor of Dr. Walter Martin's Christian Research Journal and has authored twenty books on Bible topics.
---
Download FREE PDF or read online

Buy printed Bible from Amazon